New Van Wrap Design for Seismic Retrofitting Component Manufacturer in North Orange County
Apr 21, 2017
Located at 14848 Northam Street in La Mirada, International Seismic Application Technologies (ISAT) manufactures seismic retrofitting components, to help structures withstand earthquakes. ISAT assists companies in meeting their building code requirements and additionally offers great consulting services.
When ISAT needed a new eye-catching Vehicle Wrap for their van 18 months after our last successful project, our graphic artists were excited to get the call.
Van Wrap Designs in Orange County, CA, For Unique Corporate Needs
Unlike other van wraps, ISAT had an interesting goal: to wrap the roof of the van so construction crews could see their advertisement. After consulting with ISAT, our graphics team worked on a beautiful installation that would catch the eye of construction crews. This posed a great new challenge as they were looking for a brand-new advertising campaign after our last project together proved successful.
Our graphic artists designed dynamic work to show off the new advertisements for ISAT. In our last work with ISAT, our team designed a full wrap and installed the graphics after the van was brought from Houston to the Galleria area, achieving a well-blended and beautiful result. Our graphic artists and installation professionals are excited to take on a new challenge with ISAT/Tomarco in their newest advertising campaign.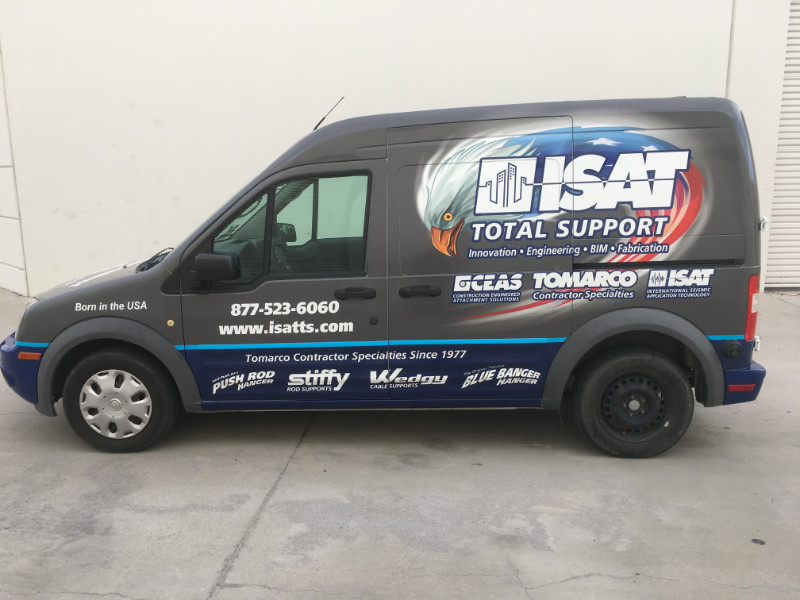 Innovative Vehicle Wraps for Any Project Type
Many of our clients don't realize the full scope of what our professional vehicle wraps can do. With our graphic artists, we can put together unique projects that reflect the exact goals of our partners. ISAT gave us the great creative idea of how to target construction crews, but it doesn't stop there. Our team has extensive experience and can provide customer service without parallel.
If you're looking to have your own unique vision realized, our team can handle it. We offer solutions in:
Full Vehicle Wraps. In a full vehicle wrap, we add color, graphics, and unique ad copy on the entire vehicle for a punch of information and enjoyable design.
Partial Vehicle Wraps. In this installation, we only wrapped the roof of the van and matched the colors to seamlessly blend into the van. We can use our experience to achieve similar results for your company.
Decals and Vinyl Lettering. Not looking for the commitment of a wrap? We can still help. The small details of our decals and vinyl lettering will add intrigue and good design to any vehicle.
Get Started on your Vehicle Wrap Today
Our graphic artists can help with any vision your company has. We work with small and large businesses in Orange County, California, alike and welcome any new challenge that comes our way. Our professionals will show up on-site to take our own measurements and give qualified opinions on what solutions will work the best for your new project. With full-services in graphic design, we can handle the most complicated and intricate designs.